Experience our relentless pursuit for perfection with the Player IV series, the next generation of our best-selling Player Stand.
UNMATCHED PERFORMANCE
Introducing two new styles to our coveted Player Stand lineup - the Player IV and Player IV Pro.
This series boasts elevated details, increased functionality and unmatched craftsmanship from top to bottom.
Player IV
Player IV Pro
Industry Leading Balance
The Player IV series is equipped with our patented Equilibrium 2.0 Double Strap. This ergonomic strap features an 8-point swivel mechanism which self-adjusts to each golfer's gait.
Our patented Rotator Stand System provides maximum stability. Flex activation, combined with a wide, low-profile base allows the bag to sit flush against the ground when the legs are fully deployed.
Maximum Stability
A key feature upgrade, the 'jam-resistant' bottom club divider prevents club grips from jamming when the legs are deployed for effortless club retrieval. This means no more cramming or fumbling for your clubs.
Jam-Resistance
FIRST-CLASS MATERIALS
Beautifully crafted from tour-grade synthetic leather with lux details such as leather touchpoints, antimicrobial microfiber and carbon fiber components.
Tour-Grade Synthetic Leather
Durable & weather-resistant.
Waterproof Zippers
With genuine leather pulls.
Padded Neoprene
Breathable & sweat-resistant.
PERFORMANCE FEATURES
Built for the avid golfer who needs top-level club and equipment organization to be prepared for anything the course demands.
6-Way & 14-Way Top Options
6-and-14 way top options with full-length dividers and padding for club protection. Both top sizes are built with a stadium layout to promote club spread.
Superior Top Design
Intentionally placed high strap-attachment points on the very top of the bag allows for better balance & eliminates club fallout when the bag is fully loaded & carried.
Magnetic Rangefinder Pocket
A key feature upgrade, this magnetic pocket displays an internal divider for dedicated rangefinder storage.
Personals Protection
Purposeful organization on the garment compartment can be seen in the exterior personals pocket & the interior lock pocket, ideal for storing valuables.
Beverage Storage
Keep your refreshments cold in the dual bottle sleeves and large cooler pocket -  complete with insulation & drainage.
Carbon Fiber Legs
Equipped with ultra-lightweight carbon fiber legs to optimize the bag's strength to weight ratio. New leg housing offers scratch-free protection when used on a cart or trolley.
Ball Pocket
Neatly store your game essentials such as tees, ball markers and golf balls in the large main compartment - complete with 3 internal pockets for added organization.
Magnetic Side Pocket
Allows for easy-access while the bag is being carried. Ideal for storing frequently used items such as a yardage book or score cards.
Larger 9.5" Top
The large microfiber-lined top accommodates midsize & jumbo grips. Available in a 6-or-14 way divider layout. 
Larger Garment Compartment
A large garment compartment offers plenty of room for storing large items such as 'bulky' sweaters.
Player IV
$395
Proven Performance, Unmatched Craftsmanship
SHOP NOW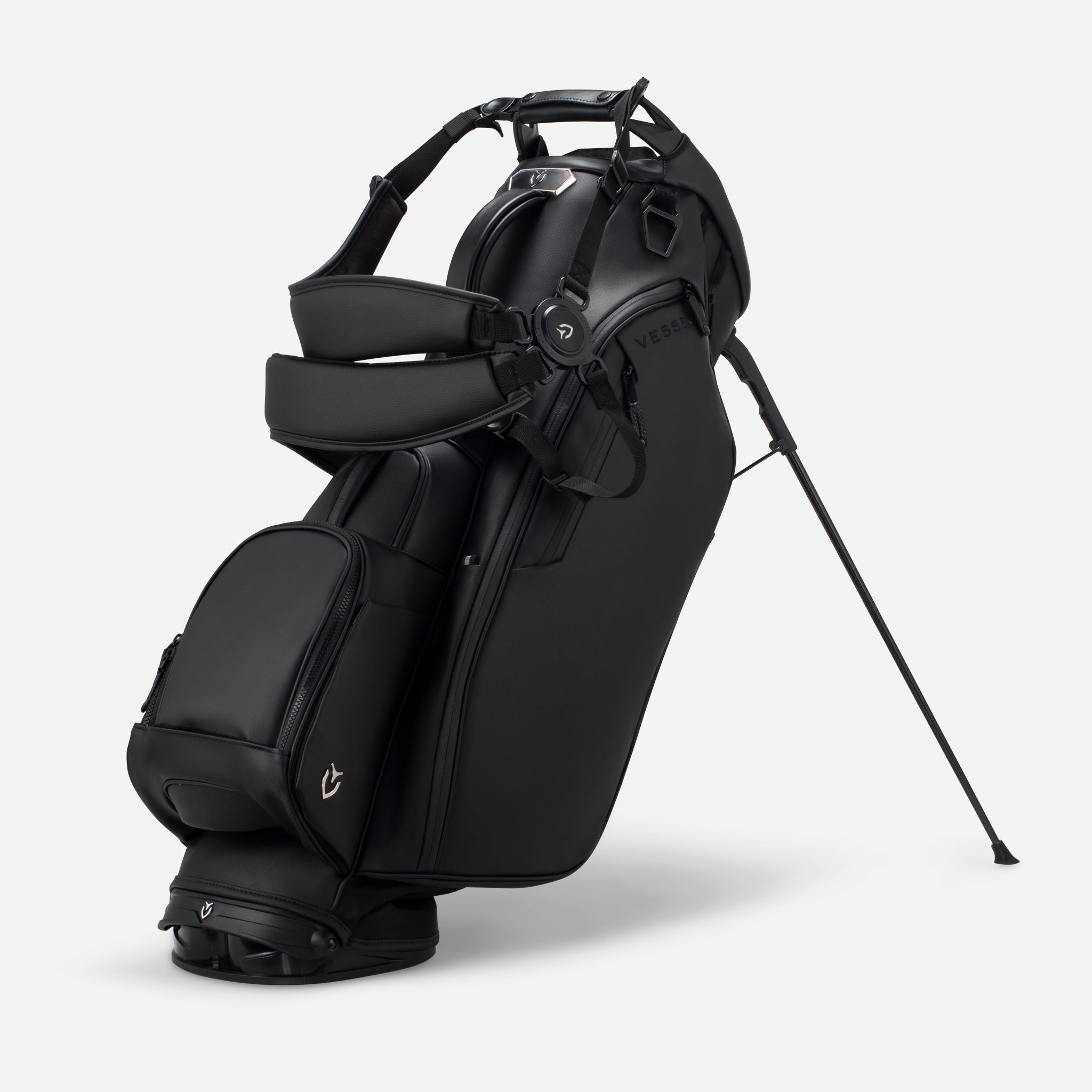 Player IV Pro
$435
Ultimate Pro Performance
SHOP NOW
Top Size
8.5" Top
9.5" Top
Weight
6-Way | 6.16 lbs.
14-Way | 6.55 lbs.
6-Way | 6.55 lbs.
14-Way | 7.45 lbs.
Mag Pockets
Rangefinder Pocket
Rangefinder Pocket & Side Accessories Pocket
Top + Strap Padding
Space-Mesh
Microfiber Velour
Material Texture
Matte
Pebbled
Garment Compartment
Standard Garment Compartment
Larger Garment Compartment