2019 Golf | President's Cup |  3 min read
This December, twenty-four of the best male golfers from across the globe will face-off in Melbourne, Australia for the coveted Presidents Cup. Occurring every 2 years, this international competition has ramped up much excitement as it turns twenty-five this year. Unlike the Ryder Cup which only features U.S. and European tour players, the Presidents Cup showcases professionals from all other regions besides Europe. This tournament will be played for charity, as the winners will equally allot the event funds to go towards their charity of choice.
We asked how Vessel CEO, Ron Shaw, felt about the opportunity to supply the custom tournament bags. He expressed that he is, "...honored and excited to have the opportunity to partner with the Presidents Cup event to provide the best experience for players and fans."
All of these talented athletes will be sporting exclusive Vessel golf bags that display their respective team colors and logos. The Vessel Pro Staff was unanimously selected as the perfect bag style to supplement their play on the Royal Melbourne golf course. To match the prestige of the Presidents Cup golf bags, a limited-edition collection of travel and golf bags were created for fans and players alike. 
The stakes run high for U.S. Team to hold onto the beloved cup, as they have a 10-1-1 record against the International Team. The tournament is based out of 30 points, so the U.S. Team will need at least 15.5 points to clinch another victory. 
For the first time in Presidents Cup history, the captains were able to select four members of their teams instead of two. Tiger Woods selected Tony Finau, Gary Woodland, Patrick Reed, and himself, as the 2019 U.S. Captain's Picks. U.S. Team member, Brooks Koepka, was forced to withdraw from the tournament as he recovers from knee surgery, and Tiger Woods selected Rickie Fowler as a replacement. Ernie Els chose rookies Joaquin Neinmann and Sungjae Im, along with Presidents Cup veterans, Jason Day and Adam Hadwin. With a few wildcards thrown in the mix, the tournament is sure to be eventful.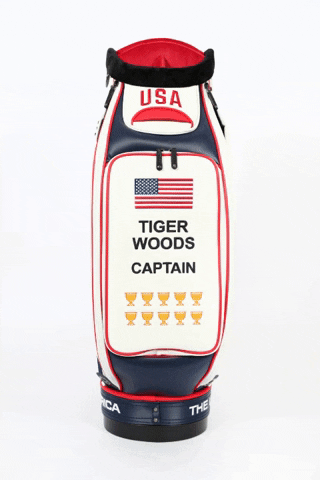 To know what to expect on each day of the tournament, a rough outline of the Presidents Cup schedule is shown below: 
[Day 1 / Dec. 9th]: Practice round for professionals
[Day 2 / Dec. 10th]: U.S. + International Team Practice Rounds
[Day 3 / Dec. 11th]: U.S. + International Practices
[Day 4 / Dec. 12th]: First Round - Fourball
[Day 5 / Dec. 13th]: Second Round - Foursomes
[Day 6 / Dec. 14th]: Third Round & Fourth - competition Fourball
[Day 7 / Dec. 15th]: Final Round - 12 Single Matches


Tune in to see all of the Vessel golf bags in action from Dec. 9th-15th!